I got to rip up some tires with my family yesterday!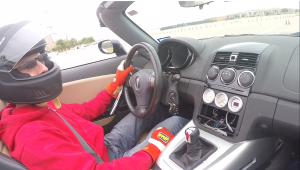 So much fun! Dad's Camaro SS wound up getting disqualified due to noise restrictions at this venue (100 dB at 50ft). So, he, my brother and law and our co-track junky Tony wound up sharing the Solstice.
My times weren't quite as good as theirs (all three of them have much more track experience than do I), but I managed to pull off a respectable 36.985s, which was the fastest novice time for the day.
The car did very well, especially considering that it was shared among four drivers and spent the entire day running the course. The only down side was a little extra wear  on my street tires (I left the R1s at home) and burning a lot of gas.
I'm most proud of how the car performed because I built it. It was also entertaining that  my hail-damaged, very dirty Solstice beat so many more expensive, polished-with-a-diaper, faster-in-theory cars.
I can't wait for the next event. Thanks for the NTCC for hosting the event and my lovely wife, Audrey, for putting up with my hobby.
Here's some video of Dad's Camaro before it got kicked out, then Matt,  Tony and myself in the  Solstice. I'm the guy in the red hoody.