I picked up a 2006 Solstice 2.4 NA a few weeks ago for use as a track and autocross car. It's a great car – light(ish) weight, awesome suspension, 5 speed (6 would've been nice), and, of course, it's a convertible which is always good.
My only complaint is that it is a little underpowered. The stock configuration only makes about 177hp (or about 140whp), which is just unacceptable. Having to shift from 5th to 3rd to pass on the highway is annoying. My daily driver – an 06 G35 coupe – makes a little over 300hp at the crank, and it's my kid hauler.
So, what to do?
TURBO TURBO TURBO MUAHAHAHAH
(I'd rather to an LS1 swap, but that's going to have to wait until my toy budget is replenished.)
So, I picked up a second-hand, but never installed,  Performance Autowerks (aka, Werks) Stage 1 300HP kit  from eBay for much less than retail. Between the price of the car and the turbo, I'm still many thousands of dollars ahead of where I'd been if I bought a stock GXP.
My Dad and I spent last weekend tearing the car apart and getting about 90% of the way through the installation. Unfortunately, I left the instructions at home in Dallas, and his shop is in Oklahoma, so we just winged it.
Here's the car, sans some components: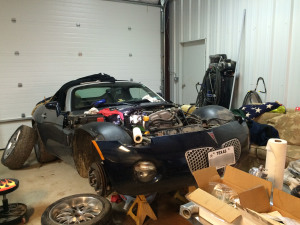 Dad making some sparks (cutting off a small chunk of a bracket to get everything to fit:)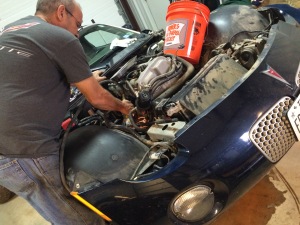 SOME of the kit components. (There are a LOT.)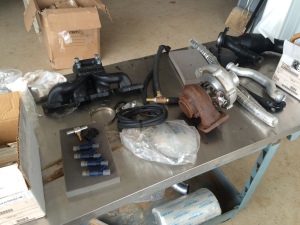 More to come at some point in the future.